Cyber Sales on all Street Soccer Balls – Choose your weapon!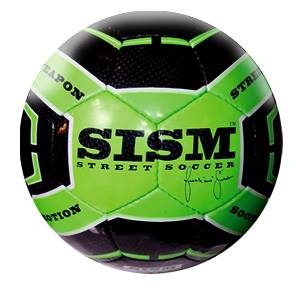 The Signature Ball by 2016 Panna Champion Isaiah Escobedo
! A special color combination chosen by the champion himself. The panna version of the Street Weapon, it's designed to slide off the foot for quick pannas! It's a size 4, low bounce ball, with a double lock valve that's just waiting for you to go out and panna everyone.
The Street Weapon line
Check out these highlights of the Street Weapon balls, including the custom ball made for Powerade on the nationwide tour (left side video). On the right side check out the street DGI Style of Play Jam 2015 where the street action puts the Street Weapon balls to use at the feet of legends such as Jean Doest, Soufiane Bencok, Sean Garnier, and many others. SISM is a proud sponsor of the Danish Street Soccer League!
Custom Street Balls

Soccer in Slow Motion has been called on to provide custom street soccer balls for some of the biggest names in the world. Here are two balls made for McDonald's and Powerade. (Balls are not available for purchase)
More panna action with the Americana Panna ball by Isaiah "Akka" Escobedo