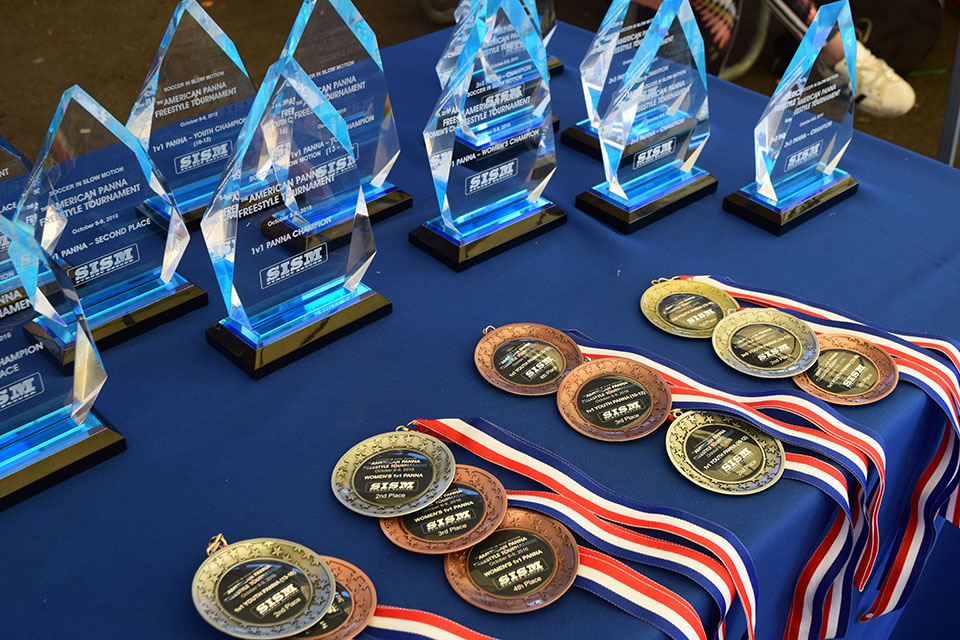 2016 American Panna & Freestyle Tournament
Beginning in 2014, SISM has hosted the American Panna & Freestyle Tournament, consisting of freestyle and street soccer competitions. Players from around the world have come to compete and we have brought over legends of the game to judge and perform as part of the event highlights!
In 2016 SISM's Marvin Rodriguez becomes the first back to back freestyle champion as he continues to dominate in the United States and Mexico. In a year that saw even more international competitors, Marvin fought through a shoulder injury to move through each battle with a victory. The freestyle championship brought about more surprise moments from the giant combo by KSRKTA's Esteban from Mexico, to another surprise take down by Borgetti from the USA. In the end, clean routines made the difference.
On the street soccer side we had another known US player continue to rise to the top. Isaiah Escobedo (USA), the 2015 2v2 Panna Champion and runner up in the 1v1 Panna tournament brought home this year's 2016 1v1 Panna Championship! New to this year's competition was our women's division. Alexis Mata (USA), champion of the 2016 Street Master's women's tournament in Santiago, Chile, won a consecutive title by winning the 2016 Women's American Panna Championship. Our youth divisions saw two new champions with Jesus (USA) winning the U17 1v1 Panna Champions and Shiou (Japan) dominating the scene and winning the U13 1v1 Panna Championship along with "Best Street Player". (From left to right: Marvin Rodriguez, Alexis Mata, and Isaiah Escobedo, Jesus, and Shiou).

This year had more all star officials and judges that included SISM's Louie Mata (USA), Yassine Abderrahim (Italy), Aless Street-Talent (Belgium), Melody Donchet (S3 – France), Achie Tarhouchi (Netherlands), Skora (Poland), and last but not least, Leamssi (Belgium)! Adding to the entertainment for the week were our emcees Danny Miller from the USA and Mambo from Belgium.

Check out these special SISM street soccer and freestyle balls. From left to right we have black and green panna ball, the signature ball of Isaiah Escobedo, winner of the 2016 Panna Championship. In the center is our favorite Street Weapon ball, and on the right is the signature ball for freestyle champion Marvin Rodriguez, the 2x SISM American Freestyle Tournament Champion. The signature balls are limited edition balls only available until the next championship. Buy yours today! Check out the highlights from each year and watch the action as the champions rise to the top!
2014 Highlights