SISM is run by Louie Mata and Maria Contreras-Mata and supported by our team of players from around the world!
As the long time expert in soccer, Louie has traveled the world and played at some of the highest levels. Here is some background on the experience behind SISM:
I was both a very good field player and excelled as a goalkeeper. My goalkeeper training began by attending Joe Machnik's goalkeeper camps from a young age. (A dedicated goalkeeper camp is a must for goalkeepers seriously looking to establish a solid foundation. Training with a high-level goalkeeper coach is your next best alternative and they are difficult to find. Ex. I have been a goalkeeper coach for our Olympic Development program, was recruited to play Div. 1 college soccer as a goalkeeper, played professionally indoors, and won multiple national futsal championships. It's not easy to find this kind of experience).
1987-1988 I was chosen to play on the U14-U15 N. CA ODP State Team as a goalkeeper.
1988 – Traveled to Europe: participated in the Gothia Cup in Sweden, the Dana Cup in Denmark and was selected from over 20+ goalkeepers to continue on to play in a tournament in Minsk, Russia on an All-Star team to compete against the Dynamo Minsk club (other teams & players continued on to play in the Holland Cup).
1989 – Traveled to Europe: participated in a tournament in Spain (I was the leading scorer, we lost to Portugal in the finals), then went on to play in the Gothia Cup and the Dana Cup.
1989 – U19 Real Madrid soccer club from Hayward, CA : Took 2nd place in CYSA State Championships.
1989-1990: played Futsal with Usonians F.C. under Connie Konstin and won two National Championships in '89 and '90.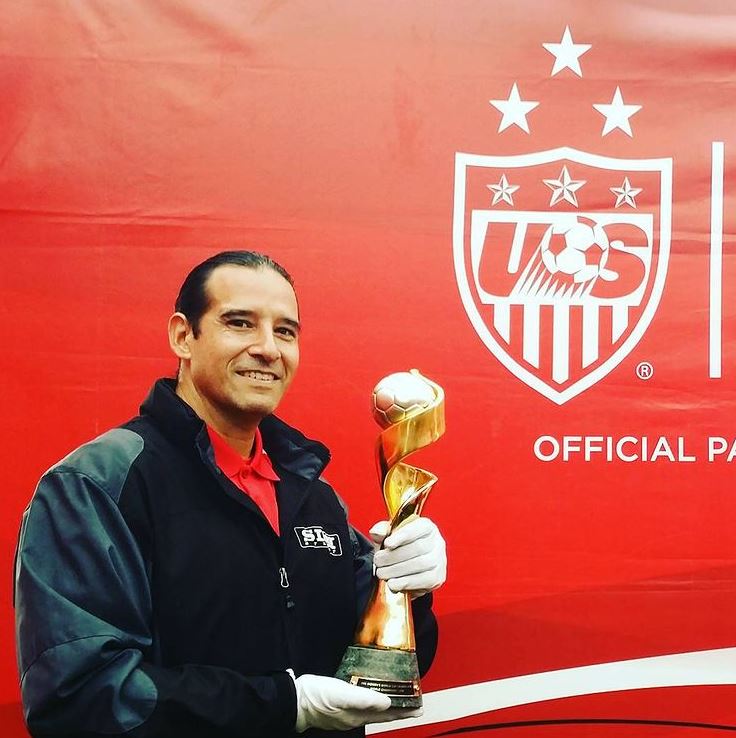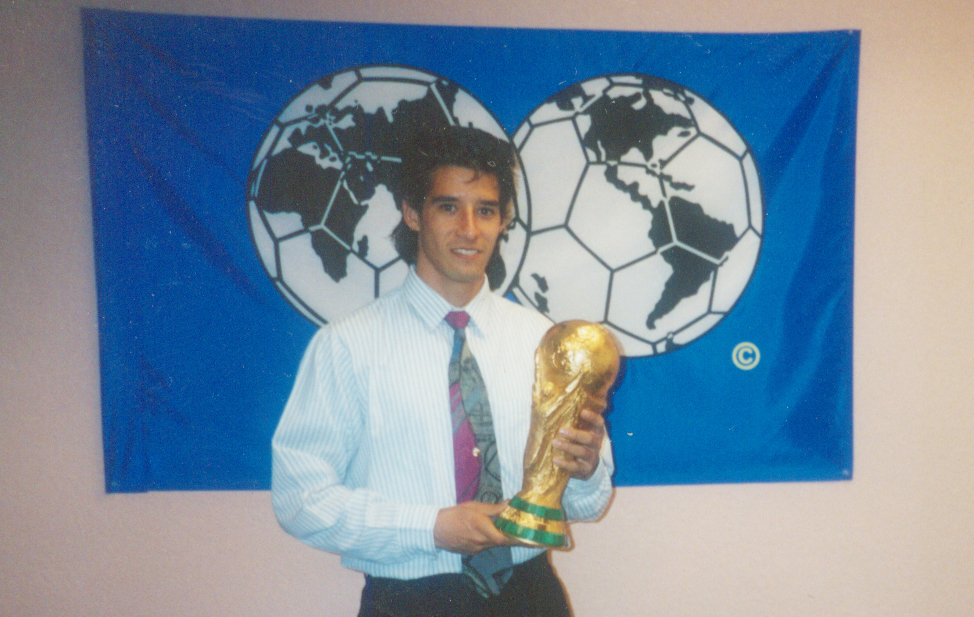 1990 -1991: I was recruited to play Division II soccer at College of Notre Dame. I played here for 2 years.
1992 – 1993: I received a scholarship to play Division I soccer at Cal. State Northridge in Southern California.
1993: I was the head coach of a U19 boys team for a 4-week trip to Germany. Upon returning we hosted a tournament for one of the German teams (that we stayed with during our trip) back in the United States.
1993: Played with the San Francisco Mexican Consulate team and won the inaugural National Championship held in Phoenix, AZ. We were rewarded with a fully paid trip to represent the consulate in another tournament in Acapulco, Mexico that we won.
1994: Played with the San Francisco Mexican Consulate team and took 4th in the 2nd annual tournament held in Houston, Texas. We were also sent to Mexico City, Mexico to represent the consulate in another tournament.
1994 World Cup: I worked on the field as "Head Runner" for all games held at Stanford Stadium. I also had clearance to access all areas of the stadium from my position. Prior to the world cup I had worked at Spartan Stadium for all international games hosted there.
1994-1995: Coach for Mission College soccer in Santa Clara.

I coached the men's and women's soccer programs.

1995: San Jose Grizzlies Professional Indoor Soccer – As a new player to the team I was the back-up goalkeeper. I made guest appearances at various events and youth tournaments.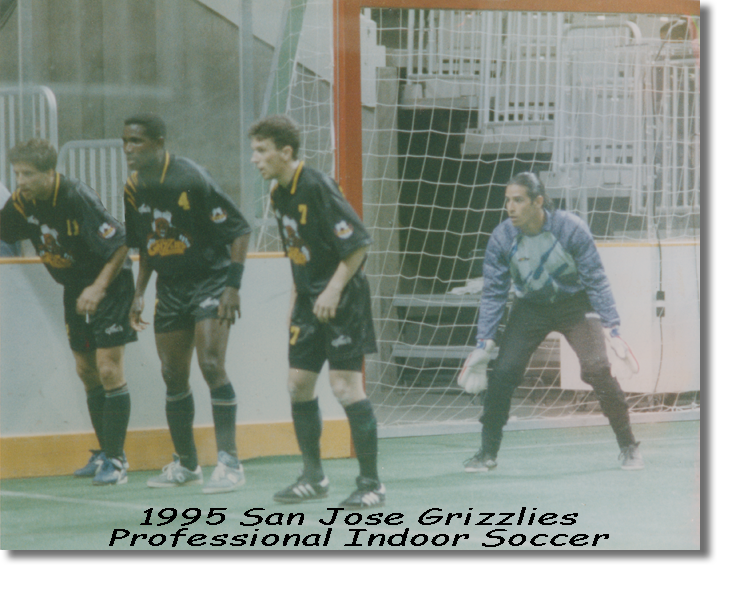 1995 – 1996: I was the goalkeeper coach for the U14 N. CA ODP State Team. Responsibilities included the choosing the team's goalkeepers and preparing the selected goalkeeper's for the ODP regional camp.

I had the privilege of selecting and working with Steve Cronin, a goalkeeper who played with the Los Angeles Galaxy.

1996: Played several seasons in the Peninsula League with the San Jose Oaks with Chris Dangerfield.
1995-1998: Worked as a staff member for Go-4-Gold Soccer in S. San Jose. I was the goalkeeper trainer for the camp.
1997-1998: Goalkeeper instructor for David Gold's Golden Gloves Goalkeeper Academy.
2002: Coached U10 Boys competitive team for River City United.
2002-2003: Took part in various soccer camps for the River City soccer league.
2003-2004: Played men's competitive indoor soccer at Off the Wall in Sacramento. We won 7-8 sessions in a row. At various times we played alongside several Sacramento Knight players on our team during their off-season, including head coach Iain Fraser.
2006 – 2008: Coached U6 girls soccer team in the N. Natomas Soccer League
2008: I was a trainer for a U10 Boys competitive team.  I worked with the players and coaches to bring them up to speed in coaching at the competitive level.
2009: Site Director for World Cup Soccer Camps & Clinics: Included managing staff coaches at camps, AYSO team clinics throughout Portola Valley, and instructing coaches during coaching clinics in Los Altos.
2009-2010: Assistant coach with Cañada College men's team.
2010 – Present: Owner of the Soccer in Slow Motion (SISM): We started training individual teams and grew to provide training and entertainment for some of the biggest companies in the world including Coca-Cola, US Soccer, Google, Adobe, McDonalds, Powerade, Audi, MLS, Univision, Telemundo, Tabasco, Moneygram, and many more. See our partner page here: https://soccerinslowmotion.com/event-entertainment/

SISM has hosted 3 international street soccer competitions which brought many of the world's most famous street soccer players from around the world to the Bay Area.
We have provided entertainment at stadiums across the USA including matches with Real Madrid, Barcelona, Tottenham, Chelsea, USMNT and USWNT, as MLS All-Star Matches!
Check out our Instagram page for more of the action! https://www.instagram.com/sism_street_soccer/